Today was a rough one.
I've decided to blame it on the cold.
So. I've decided I need a short term goal. The
Portland Marathon
is still 7 months away, and frankly seven months is just far enough away for it to still seem unreal. Plus, if the MARATHON is the sole focus of all this training and attention, then there might me a good chance I'll have some performance anxiety. I need a "smaller" goal to take the edge off.
Last year I had
Hood to Coast
to take some of the focus off the Portland Half Marathon. Also it added some pressure toward the need for training. I sure didn't want
to be the slowest team member
to disappoint my team by not being fully trained. Sadly the good folks in charge of HTC did not want the Rancho 12s to run again. (Poppycock! It's not like were the
slowest
team. There were TWO WHOLE teams slower than us.) This year it seem the
Foot Traffic Flat
will have to do. I'll run a half-marathon at 6:30 in the morning if it means I can eat strawberry shortcake before noon.
Yum.
***
Can we pause for a second and talk about how insane all of this is? Friends, I am not a runner. I have never been a runner. If you told anyone I used to swim with that I was training for a marathon, they'd laugh in your face. And I don't even want to know what my old coach would say. We'd run (occasionally) as cross-training for swimming...and I was always at the back of the group complaining the ENTIRE TIME. (How pleasant for everyone.)
See this bridge?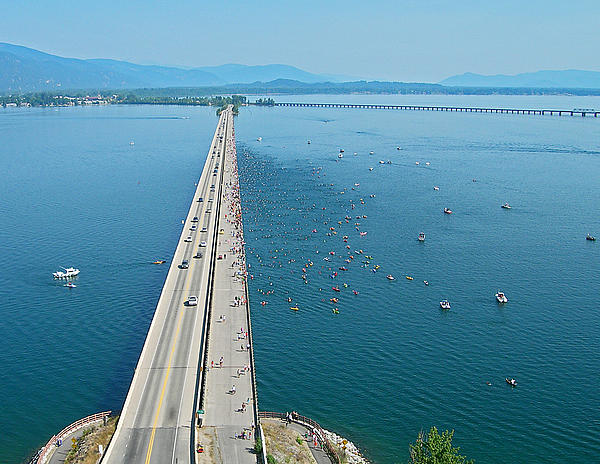 Five years ago I would have flat out refused to run across. (It's approximately 2 miles.) But I happily swam underneath it. On more than one occasion.
Side note: if you're every looking for a fun open water event try
The Long Bridge Swim
in Sandpoint, Idaho. The swim is 1.76 miles, the bridge guides you in the right direction, and it really is a great event. I promise. Plus you get ice cream when you finish. Or at least you did in 2007, which was the last year I did it.
Anyway, my point is that there's something surreal about training for this MARATHON. Maybe I'm still a teeny bit incredulous that a (big) part of me wants to run 26.2 miles.
***
Back to today's workout. Largely ab focused. I didn't feel great today. The exercises were hard and I still have sucky balance. Also, I couldn't do the
TRX ab exercise
, which I found slightly disheartening, but at least I have no where to go but up on that one! This is one thing I really like about Alison, she offers me encouragement to try exercises I'd psych my self out of, but can quickly modify the plan if need be. That and she doesn't seem to mind my endless questions.
My run this afternoon, though short, was beautiful. It was 60 degrees and sunny in Portland, so I couldn't bear the idea of running on the treadmill. I only did two miles, but I was a good two miles and felt great to be running outside in the sun. Yay for the sun! It doesn't hurt that today's route was through
Laurelhurst Park
.
10x Kettlebell swings (15lbs)
10x step-up w/ medicine ball (10 each side)
30 sec side plank (each side)
10x side cross reach w/12lb weight
60 seconds TRX squat w/ jump
(Obviously I don't know the names of several of the exercises. I should work on that.)
Affirmation: Many of life's failures are people who did not realize how close they were to success when they gave up. -Thomas Jefferson.